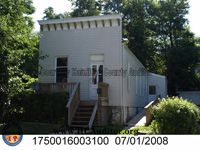 NEIGHBORHOOD:
East Price Hill
YEAR BUILT:
???
USE:
Single-family dwelling
OWNER:
KB Partners LLC
ASSESSED VALUE:
$3,190
ORDERS:
--
CONDEMNED:
August 2012, for general neglect and vandalism. The house had been vacant for at least two years. Condemnation orders cited a collapsing garage and roof and excessive litter.
HAZARD:
--
REASON RAZED:
Demolished by the owner to close out orders.
MAP