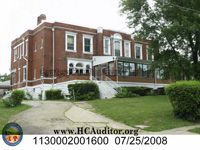 NEIGHBORHOOD:
Avondale
YEAR BUILT:
1900
USE:
Nursing home/private hospital
OWNER:
Tekaho Inc.
ASSESSED VALUE:
$1,909,180
ORDERS:
--
CONDEMNED:
August 2012, due to vandalism, missing and vandalized mechanical systems, roof and flashing, missing gutters and downspouts, missing windows and doors, cracked masonry, chimneys, ceilings, walls, floors, rubbish and tall weeds. Complex possibly going through bankruptcy foreclosure.
HAZARD:
November 2012.
REASON RAZED:
Declared a public nuisance and entered into the City's hazard abatement program. Formerly home to the Alaska Acres Care Center, the property now is being eyed by Columbus-based
National Church Residences
for the Commons at Alaska, a 99-unit permanent assisted housing development for formerly homeless individuals with mental, emotional, or physical disabilities.
MAP