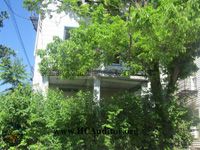 NEIGHBORHOOD:
Avondale
YEAR BUILT:
1895
USE:
Multi-family dwelling
OWNER:
MGDK Investments LLC
ASSESSED VALUE:
$4,600
ORDERS:
March 2006, ordered barricaded due to suspected drug activity and squatters.
CONDEMNED:
June 2007, now with a vermin infestation. Orders reissued in September 2007, citing an unsafe fire escape, a lack of electric service, and a deteriorated front porch. Reissued in January 2010. A civil fine was issued in October 2011, but it appears that the property owner had lost it in foreclosure and had moved to Atlanta.
HAZARD:
May 2012, adding cornice and box gutters, defective siding, broken and missing windows, and high weeds. The current owner acquired the property in August 2012.
REASON RAZED:
Declared a public nuisance and entered into the City's hazard abatement program. Demolished using Moving Ohio Forward program funding.
MAP