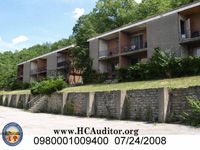 NEIGHBORHOOD:
Fairview
YEAR BUILT:
1965
USE:
Multi-family dwelling
OWNER:
2866 McMicken LLC
ASSESSED VALUE:
$355,450
ORDERS:
January 2011, for fire separations, defective plumbing lines, porch, electric service entrance cable, exterior doors, exterior hand rail, steps, windows, retaining wall, and walkways. Civil fines were issued in April and in June. The property was ordered barricaded in July 2011. By August 2011, every door in the building had been removed and the property had been stripped of all of its metal. The roof and ceilings had become a serious problem. A criminal case was filed, and in October 2011 the owner was found guilty and charged $500 plus court costs.
CONDEMNED:
August 2011, adding gutters and broken windows. A civil fine was levied in November 2011.
HAZARD:
October 2012, heavy vandalism.
REASON RAZED:
Declared a public nuisance and entered into the City's hazard abatement program.
MAP