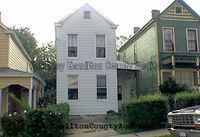 NEIGHBORHOOD:
West Price Hill
YEAR BUILT:
1900
USE:
Single-family dwelling
OWNER:
Jada M. Gray, trustee
ASSESSED VALUE:
$49,230
ORDERS:
March 2007, for exterior paint. A civil fine was issued in November 2007, then again in July 2008. No contact from the owner. Orders issued for a rotten porch, exterior paint, and gutters and downspouts in May 2009. Another civil fine was issued in February 2010. Orders reissued to the current owner in April 2010, adding siding, cornice, and rubbish. Ordered vacated and barricaded in August 2010, citing prior problems and interior vandalism.
CONDEMNED:
October 2011, adding high weeds.
HAZARD:
August 2012.
REASON RAZED:
Declared a public nuisance and entered into the City's hazard abatement program.
MAP