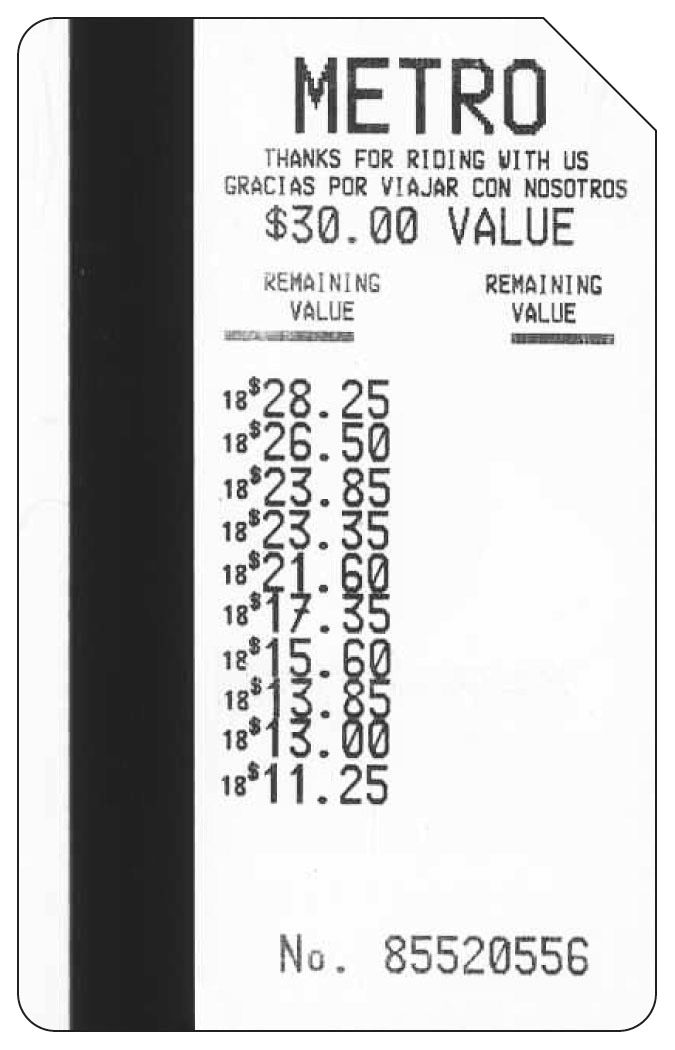 Metro
has announced that new stored-value cards will be available for purchase beginning August 1.
The prepaid cards, available in amounts of $10, $20, and $30, can be used like cash to pay all zone fares and transfers, fares for multiple riders, and even discounted fares.
Using the card will be easy. Upon boarding the bus, riders will tell the driver what they are paying for and insert the card into the slot on top of the farebox, which will deduct the fare from the balance on the card.
The new stored-value cards will be for sale at Metro's sales office, located at 120 E Fourth Street, weekdays from 7 A.M. to 5:30 P.M.
After that date, Metro will no longer sell 10-ride Zone 1 tickets, but will continue to accept those tickets through December 31. According to Metro, the tickets are being discontinued due to customer feedback about their lack of flexibility – namely, that they cannot be used to pay for additional zones, transfers, or discounted fares.
Metro also has announced that the last day it will accept tokens is June 30.
Public art survey closes June 30
There are three days remaining to give your input into public art that will be added this summer to 12 bus shelters Downtown and in Over-the-Rhine.
Metro is working with
ArtWorks
on the project, which will have a literature theme. Six ArtWorks youth apprentices will work under the direction of project manager Ryan Little and teaching artist Brandon Parker to create the art.
A short,
three-question survey
is seeking ideas from bus riders and community residents on what books should inform the installation.
Metro's maintenance department will begin shelter repair and painting in July, and the project dedication is scheduled for September.
Image courtesy of Metro
Previous reading on BC:
$6.9M Uptown Transit District to 'move Metro to the next level' (6/3/13)
Metro short-term service changes coming this fall (5/16/13)
Metro: 2012 one of its 'greenest years ever' (4/12/13)
Metro ridership up 4.2% in 2012 (1/25/13)
Metro phasing out tokens for tickets, passes (12/28/12)