Last Thursday at the
Cincinnati-Hamilton County Community Action Agency
, the
Community Development Corporations Association of Greater Cincinnati (CDC Association)
presented its annual awards for excellence in community development.
The mixed-use
U Square @ the Loop
project in Clifton Heights featured prominently in the ceremony, playing a role in three of the eight awards handed out. The $82 million development was named Most Outstanding Project, with Arn Bortz of
Towne Properties
, Jim Neyer of
Al. Neyer, Inc.
, and Matt Bourgeois of the
Clifton Heights Community Urban Redevelopment Corporation
being honored for sticking with the project despite significant hurdles.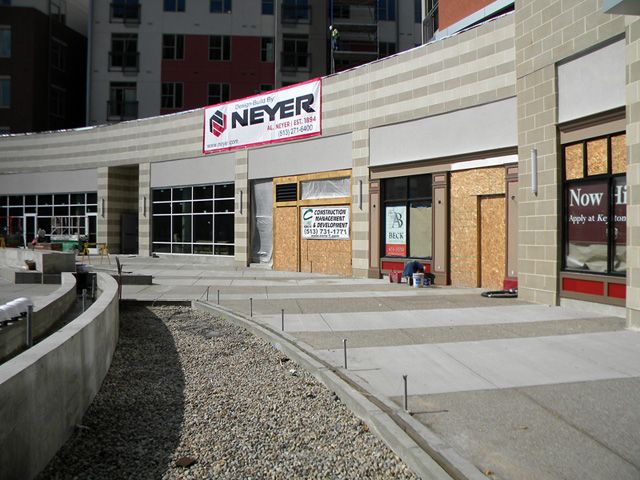 Bourgeois also was named the Most Outstanding Executive Director for his more than 14 years of work to redevelop the blocks between Calhoun and W McMillan streets.
PNC Bank
, led by Pam Weber and Amy Merritt, was named Most Outstanding Lender for helping to get the project financed.
Other award winners include:
Career Achievement: Michael Cervay, director of Cincinnati's Department of Community Development, for his long-time service in the public sector;
Most Outstanding CDC Staffer: Brittany Skelton of Over-the-Rhine Community Housing, for performing various roles in her position, including volunteer coordinator and office administrator;
Most Outstanding Collaborative Effort: Kathy Schwab of LISC of Greater Cincinnati and Northern Kentucky and Sara Sheets of the Madisonville Community Urban Redevelopment Corporation for Madisonville's Quality of Life Plan, a grassroots approach to community development based on the LISC best practices model;
Most Outstanding Consultant: Kathleen Norris of Urban Fast Forward for working with many neighborhoods to reshape their business districts, including holding workshops through the CDC Association's Back Office project; and
Most Outstanding Government Staffer: Bill Fischer, manager of the City of Cincinnati's Economic Development Division, for his more than 13 years of service;
Steve Smith, principal and CEO of the
Model Group
, served as the keynote speaker.
Previous reading on BC:
Friday walking tour to highlight Bellevue's comeback (10/10/12)
Community development award winners best represent people, place (6/15/12)
'Cincinnati Spring' summit to bring City, neighborhoods together (5/16/12)
CDCAGC annual awards honor excellence in community development (7/1/09)
An extra $95K for community housing development (3/18/09)