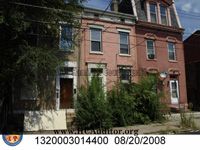 NEIGHBORHOOD:
West End
YEAR BUILT:
1875
USE:
Single-family dwelling
OWNER:
Kaja Holdigs LLC (Columbia, SC)
ASSESSED VALUE:
$11,710
ORDERS:
February 2010, for roof, gutters and downspouts, and cornice.
CONDEMNED:
June 2010, adding rotten floors, a collapsing rear addition, missing mechanical systems, and significant vandalism. A civil fine was issued in April 2011.
HAZARD:
July 2012.
REASON RAZED:
Declared a public nuisance and entered into the City's hazard abatement program. Because the building was in the Dayton Street Historic District, the City was required either to bring the building up to safe condition or, if it was an imminent public danger or repair was unreasonable, to demolish it. The house was demolished using Moving Ohio Forward project funds.
MAP