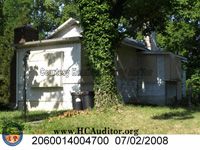 NEIGHBORHOOD:
Westwood
YEAR BUILT:
1957
USE:
Single-family dwelling
OWNER:
Emily I. Emmons
ASSESSED VALUE:
$39,450
ORDERS:
--
CONDEMNED:
April 2007, for water damage due to a faulty roof, litter, broken windows, and a lack of utilities and functioning mechanicals. A criminal case was filed in November 2007. The owner was placed into a housing diversion program.
HAZARD:
June 2008, adding plaster, flooring, structural failure, a cracked foundation, exterior paint, chimney, and weeds. By late 2008, the owner had acquired a stay of demolition and rehab work had started. In May 2010, City inspectors found that the owner's brother was occupying the house illegally while work was being done. Work soon stopped, and the house became the target of vandals.
REASON RAZED:
Demolished by the owner to close out orders.
MAP