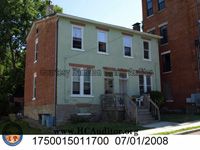 NEIGHBORHOOD:
East Price Hill
YEAR BUILT:
1875
USE:
Two-family dwelling
OWNER:
Incline Place LLC
ASSESSED VALUE:
$39,190
ORDERS:
February 2012, ordered vacated and barricaded due to gutters and downspouts, exterior paint, broken and missing windows, exterior doors, trash, missing and vandalized mechanicals, and a lack of utilities.
CONDEMNED:
January 2013, issued to current owner.
HAZARD:
--
REASON RAZED:
Demolished by the owner for future redevelopment.
MAP