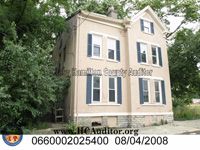 NEIGHBORHOOD:
Walnut Hills
YEAR BUILT:
1890
USE:
Two-family dwelling
OWNER:
Bobby Oglesby
ASSESSED VALUE:
$51,310
ORDERS:
March 2007, for chimney, cornice, windows, a rotten addition, smoke detectors, doors, cabinets, and litter.
CONDEMNED:
October 2009, adding severe structural damage to the masonry walls and support footers, cracked lintels, gutters and downspouts, and exterior paint. A civil fine was levied in March 2011. A criminal case was filed in June 2012, but dismissed three months later for want of prosecution.
HAZARD:
October 2012.
REASON RAZED:
Declared a public nuisance and entered into the City's hazard abatement program. The final of three buildings owned by Oglesby on the 1200 block of Chapel Street to be razed by the City.
MAP