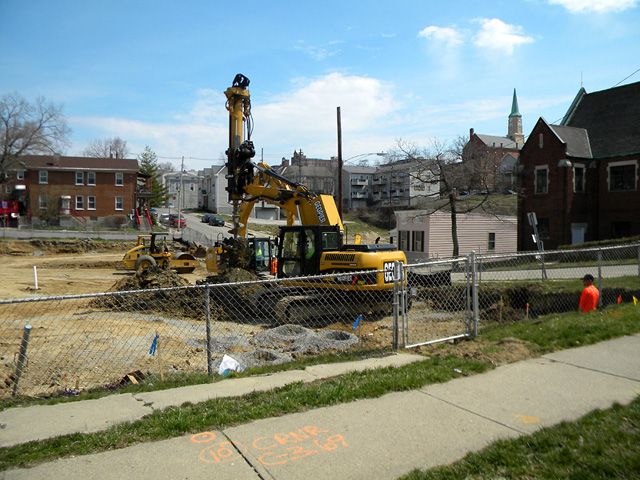 Site preparation and pile drilling is happening at the site of the Stetson City Homes in Corryville,
bounded by Eden and Donahue avenues and E Rochelle and Gerard streets
.
Ground was broken in January for the 18-unit condominium project by
Great Traditions Land & Development Co.
, a continuation of an eight-year, $84 million
Village at Stetson Square
project that so far has resulted in 205 apartment units, 53 condominium units, 79,000 square feet of office space, and 15,000 square feet of street-level retail.
Condominiums at Stetson City Homes are priced between $200,000 and $275,000.
These photos were taken on April 6, 2013. Please click on each photo to enlarge to 800 x 600 resolution.
Previous reading on BC:
Second phase of Stetson Square breaks ground (1/17/13)
Council approves 18 more condos for Stetson Square (8/6/12)
Funding appropriated for four streetscape projects (7/3/12)
Overlook at Eden Park and Stetson Square photo update, 7/6/08 (7/10/08)
Stetson Square photo update, 12/17/07 (12/19/07)