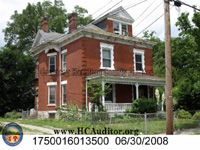 NEIGHBORHOOD:
East Price Hill
YEAR BUILT:
1903
USE:
Single-family dwelling
OWNER:
KB Partners LLC
ASSESSED VALUE:
$54,640
ORDERS:
September 2011, ordered vacated and barricaded due to a deteriorated roof, chimneys, gutters and downspouts, exterior paint, exterior steps, missing mechanicals, and lack of electric and water service. Orders reissued to a new owner in March 2012, adding cornice deterioration. Issued to a new owner in December 2012.
CONDEMNED:
--
HAZARD:
--
REASON RAZED:
Demolished by the owner to close out orders.
MAP