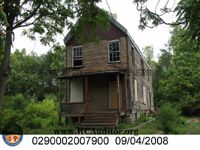 NEIGHBORHOOD:
East End
YEAR BUILT:
1900
USE:
Single-family dwelling
OWNER:
Forrest D. Melton, Jr.
ASSESSED VALUE:
$12,900
ORDERS:
May 2005, ordered vacated and barricaded.
CONDEMNED:
November 2005. Since the owner could not be identified, a criminal case was not pursued at the time. Condemation orders were reissued in July 2006, citing defective gutters and downspouts, a rotted front porch, missing siding, water damage, and overgrown weeds. Orders reissued in June 2007, adding flashing, plaster, broken and missing windows, cornice, collapsing floors, and missing or vandalized mechanicals. In criminal status.
HAZARD:
January 2009, occupied illegally with new windows and electrical service added without permits. The building was condemned again in June 2011. In August 2012, the owner contacted the City to request a stay of demolition and was told it would cost him $10,000, plus a $3,500 Vacant Building Maintenance License. He said that he didn't have the money. By December 2012, the building was stripped of everything of value.
REASON RAZED:
Declared a public nuisance and entered into the City's hazard abatement program. Demolished using Moving Ohio Forward funding at a cost of $8,500.
MAP