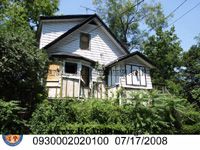 NEIGHBORHOOD:
Mount Auburn
YEAR BUILT:
1925
USE:
Single-family dwelling
OWNER:
Etta Douglas
ASSESSED VALUE:
$4,000
ORDERS:
February 2008, ordered vacated and barricaded due to a lack of utility service, hand rail deck, windows, and exterior paint.
CONDEMNED:
February 2009, to a new owner. Additional issues cited included siding, cornice, and exterior steps. Criminal status against former owner. Orders to the current owner in February 2010. A civil fine was issued in August 2011.
HAZARD:
February 2012.
REASON RAZED:
Declared a public nuisance and entered into the City's hazard abatement program. Demolished using Moving Ohio Forward funding.
MAP