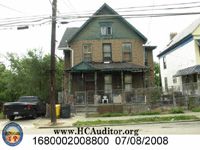 NEIGHBORHOOD:
South Fairmount
YEAR BUILT:
1900
USE:
Single-family dwelling
OWNER:
Donald S. Rogers (Winchester, OH)
ASSESSED VALUE:
$15,560
ORDERS:
September 2008, for exterior walks, roof, flashing, gutters and downspouts, cornice, soffit, siding, exterior paint, windows, porch, and exterior steps. The owner called the City and said that she and her husband were on a fixed income and were trying to contact
People Working Cooperatively
to help with the repairs. A couple of days later, she called back and told the City that they no longer planned on making any repairs and intended to move. In less than a month, they were gone.
CONDEMNED:
December 2008, to a new owner. Orders were reissued in March 2011, as the house was found to be occupied. The current owner, Rogers, acquired the property in August 2011 and received reissued orders. A civil fine was issued in January 2012.
HAZARD:
July 2012.
REASON RAZED:
Declared a public nuisance and entered into the City's hazard abatement program. Demolished using Moving Ohio Forward funding.
MAP