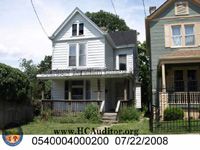 NEIGHBORHOOD:
Evanston
YEAR BUILT:
1890
USE:
Single-family dwelling
OWNER:
Property Makeovers LLC
ASSESSED VALUE:
$3,190
ORDERS:
December 2006, ordered barricaded. Orders reissued to a new owner, now also ordered vacated due to wind damage to the roof and siding.
CONDEMNED:
October 2009, adding water damage and evidence of vandalism. A criminal case was filed that some month, but apparently was dropped the following year when a new owner emerged.
HAZARD:
August 2010, adding cracks in the foundation and broken and missing windows. Throughout 2010 and 2011, attracting vagrants. December 2011...sold again! Sold again in December 2012, two months after the contract for its demolition was received from the City's Purchasing Division.
REASON RAZED:
Declared a public nuisance and entered into the City's hazard abatement program. Demolished using Move Ohio Forward funding.
MAP