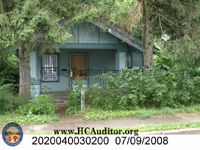 NEIGHBORHOOD:
North Fairmount
YEAR BUILT:
1925
USE:
Single-family dwelling
OWNER:
Hamilton County Board of Commissioners
ASSESSED VALUE:
$14,030
ORDERS:
October 2009, ordered vacated and barricaded due to a lack of utility service, an open front door, missing gutters and downspouts, and exterior paint. A criminal case against the former owner was filed in February 2010. In July 2011, he was found guilty and given a 180-day suspended jail sentence, court costs, and two years of probation.
CONDEMNED:
--
HAZARD:
--
REASON RAZED:
Razed as part of the Metropolitan Sewer District of Greater Cincinnati's
Denham Watershed sewer project
.
MAP