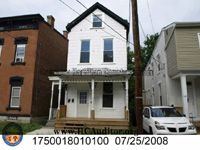 NEIGHBORHOOD:
East Price Hill
YEAR BUILT:
1880
USE:
Two-family dwelling
OWNER:
Stonegate Bank
(Boca Raton, FL)
ASSESSED VALUE:
$38,400
ORDERS:
April 2007, ordered vacated and barricaded with violations for porch, windows, exterior paint, siding, exterior steps, and fence. Some work was done, but not completed. Orders were reissued to a new owner in March 2009. A criminal case was filed in February 2010.
CONDEMNED:
March 2010, citing a hazardous front porch, vandalism, deteriorated framing, defective plumbing, an open cornice, missing siding and paint, broken and missing windows, and litter. The criminal case was dismissed in May 2010 following the emergence of the current owner, with condemnation orders reissued in June 2010.
HAZARD:
December 2010, now with problems with the foundation and roof.
REASON RAZED:
Declared a public nuisance and entered into the City's hazard abatement program.
MAP