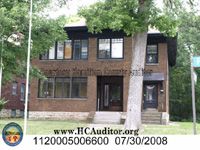 NEIGHBORHOOD:
Avondale
YEAR BUILT:
1935
USE:
Three-family dwelling
OWNER:
City of Cincinnati
ASSESSED VALUE:
$112,560
ORDERS:
February 2009, ordered vacated and barricaded due to rotted roof and soffit, damaged gutters and downspouts, a hazardous rear porch, and a lack of protective paint. In September 2012, orders were reissued for all except for the roof, gutters and downspouts.
CONDEMNED:
--
HAZARD:
--
REASON RAZED:
Demolished by the City for future housing development by
The Community Builders, Inc.
MAP