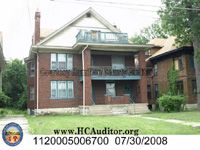 NEIGHBORHOOD:
Avondale
YEAR BUILT:
1938
USE:
Two-family dwelling
OWNER:
City of Cincinnati
ASSESSED VALUE:
$15,000
ORDERS:
December 2011, for roof, chimney, soffit, front and rear porches, and fire escape.
CONDEMNED:
October 2012, adding water damage to the ceiling walls, and missing doors and windows.
HAZARD:
--
REASON RAZED:
Demolished by the City for future housing development by
The Community Builders, Inc.
MAP