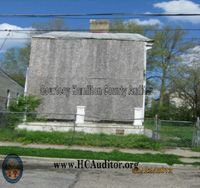 NEIGHBORHOOD:
South Cumminsville
YEAR BUILT:
1895
USE:
Single-family dwelling
OWNER:
Leon Jordan
ASSESSED VALUE:
$5,000
ORDERS:
--
CONDEMNED:
September 2009, following a fire that caused damage to structural elements, siding, electrical service, porch, and windows. The owner told the City that he planned on rehabilitating the building, but did not have enough money for the building permits (?!?). A criminal case was prepared, but apparently not pursued.
HAZARD:
November 2010, deteriorating badly.
REASON RAZED:
Declared a public nuisance and entered into the City's hazard abatement program.
MAP