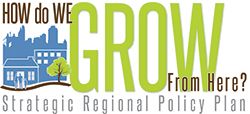 The
results of the "How Do We Grow From Here" questionnaire
, which will be used to update the
Ohio-Kentucky-Indiana Regional Council of Governments' (OKI)
20-year Strategic Regional Policy Plan, were released last week by OKI Board President and Hamilton County Commissioner Todd Portune.
The current plan was adopted in 2005.
"This questionnaire's findings provided OKI with a snapshot on how the respondents feel about critical issues facing our region in the future," Portune said in a prepared release. "These results give us a starting point to work with jurisdictions to find ways they can address these issues in a comprehensive, effective way."
Launched in 2012, the 21-item questionnaire received 2,474 responses from OKI's eight-county service area and addressed
28 strategic regional issues
such as transportation, public facilities and services, natural systems, housing, economic development, and land use.
"The most significant changes in the region since 2005 are a result of the economic downturn and changing demographics based on an aging population," Portune said.
OKI's Land Use Commission will evaluate the responses and a second public input campaign will be launched this summer.
Final policy recommendations will be available for fiscal year 2014 and will be used not only by OKI, but also by local governments to inform policy development, land development, and capital budgeting – all with an eye toward making the most out of scarce sources of funding.
"OKI is committed to help local communities maximize opportunities to best leverage public investments across the region," said OKI Executive Director Mark Policinski.
Previous reading on BC:
OKI seeking consultants for two traffic count projects (2/15/13)
OKI opens applications for funding, announces RFQ for bridge traffic counts (2/8/13)
City issues bike share RFP; OKI updating route guide (2/4/13)
Public hearing Monday on changes to OKI long-range plan (1/4/13)
More than $85M awarded by OKI for regional transportation projects (8/13/12)