A proposed plan to lease the City of Cincinnati's parking operations would allow the City to retain control of rates, hours, and enforcement and would raise nearly $100 million for capital projects and its general fund.
Details of the
Parking Modernization Plan
were revealed by City Manager Milton Dohoney, Jr. to City Council's Budget and Finance Committee Tuesday afternoon.
Under the terms of the plan, the City would enter into a 30-year partnership with the
Port of Greater Cincinnati Development Authority
, which would act as lessee and owner.
The Port would issue $92 million in bonds as an upfront payment to the City. The City would receive a payment estimated at $3 million annually, which Dohoney expects to grow over time, and the bonds would be serviced with parking revenues.
On-street parking would be operated by
Xerox
, and off-street facilities would be operated by
Denison Parking
. The City retains the right to terminate the agreement if operating standards are not substantially met and receives all of the benefits of the infrastructure upgrades when the agreement ends.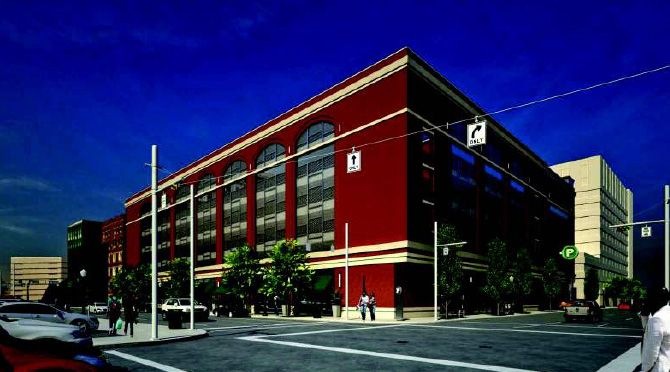 Upgrades first
To start, $20 million would be used to finance upgraded parking meters and to build a new, 725-space Sycamore Garage, which will replace the 257-space Seventh Street Garage and will serve a planned 11-story, 200-room
Holiday Inn & Suites Hotel
.
Technological upgrades would also make parking more convenient to motorists, Dohoney said. Upgrades would include better information spread across multiple technologies, the ability to pay a meter remotely, easy to understand messaging, programmed meters that won't accept coins in off hours, and increased payment options.
Downtown rates will remain at $2 per hour initially, and neighborhood meters could only increase to 75 cents per hour following the upgrades. Future rate increases would be capped at 3 percent or the cost of living and would be raised in 25 cent increments.
Downtown meters would be in effect from 8 A.M. to 9 P.M., and neighborhood meters would be in effect from 7 A.M. to 9 P.M.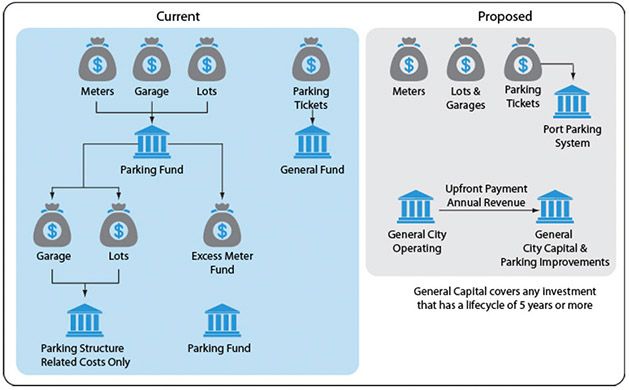 Plan a 'growth accelerator'
According to Dohoney, the plan is essentially an economic development plan, a "growth accelerator" providing an upfront payment that can be leveraged to create jobs and build businesses. This growth would provide ongoing tax revenues for the next 30 years.
The City's current parking revenue has limited support for non-parking uses, he said.
Ideas for the funds include:
Investing $12 million – leveraging an additional $82 million – to build a 30-story tower containing 300 luxury apartments, a street-level grocery store of 15,000 square feet, and 1,000 parking spaces on the current site of the Pogue's Garage at Fourth and Race streets. The adjacent Tower Place Mall would house 1,000 parking spaces and 20,000 square feet of street-level retail.

A $20 million local match for an I-71 interchange at Martin Luther King Drive. According to Dohoney, the $59 million project will bring between 5,900 and 7,300 jobs to the City and generate $33 million in additional earnings tax revenue. The City plans to ask the Ohio Department of Transportation for $40 million so that the project can break ground next year. If the state decides not to support the project, the City would use the funding to attract a 2,500-job "mega-deal".
$4 million to continue construction at Smale Riverfront Park. Elements such as the Vine Street Fountain, carousel, and carousel building could be completed by the 2015 All-Star Game.
$3 million to acquire the Wasson Line right-of-way for the development of a bike trail, furthering the Cincinnati Bicycle Transportation Plan.
Balancing the 2014 and 2015 City budgets with $25.8 million and $20.9 million cash infusions.
Adding $6.3 million to the City's reserve account, bringing savings in the account to the City's goal of 8 percent and improving the attractiveness of City bonds.
Public hearings on the proposal will be held Feb. 25 at 6 P.M. in Council Chambers at
City Hall
and Feb. 27 at 6 P.M. at a location yet to be announced. On Feb. 28 at 6 P.M., City Economic Development Director Odis Jones will meet with community members to discuss the proposal at
Invest In Neighborhoods
, located in the Cincinnati Fire Museum building at
315 W Court Street
.
Previous reading on BC:
City 'FAQs' address parking proposal misconceptions, concerns (12/21/12)
Garage serving new Holiday Inn gets 115 more spaces (12/14/12)
City plans offer for Tower Place in 9 days (11/20/12)
Elimination of Downtown, OTR parking minimums being studied (6/27/12)