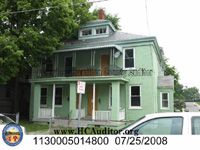 NEIGHBORHOOD:
Avondale
YEAR BUILT:
1900
USE:
Multi-family dwelling (4 units)
OWNER:
Wham Properties V LLC
ASSESSED VALUE:
$35,420
ORDERS:
January 2007, ordered vacated due to a lack of water, gas and electric service. Ordered vacated and barricaded again in October 2007, and ordered vacated again in September 2011 when all four units and an attic dormer were found illegally occupied following the building's foreclosure. City inspectors found extreme roach infestation and raw sewage in the basement and damage to the walls, ceilings, and sinks. Orders were reissued the next month, and the case is in criminal status.
CONDEMNED:
November 2012, citing deteriorated stair framing and water damage, damage to the plaster ceilings and walls, and inadequate plumbing, heating, and electrical systems.
HAZARD:
--
REASON RAZED:
Demolished by the owner to close out orders.
MAP