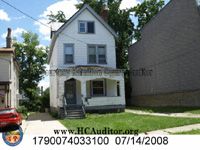 NEIGHBORHOOD:
West Price Hill
YEAR BUILT:
1900
USE:
Two-family dwelling
OWNER:
Mark Cottongim
ASSESSED VALUE:
$35,920
ORDERS:
March 2007, for trash, exterior paint, siding, and chimney. In October 2007, the house was ordered barricaded.
CONDEMNED:
April 2009, adding rotten porch decking and stairs, broken windows, a deteriorated foundations, and gutters and downspouts.
HAZARD:
December 2010.
REASON RAZED:
Declared a public nuisance and entered into the City's hazard abatement program.
MAP