The nearly 100,000 residents in
Cincinnati Police Department (CPD) District 3
can have their say on where they'd like to see a new district headquarters built at a public meeting on February 6 at 6 P.M. at Elder High School's Schaeper Center, located at
4005 Glenway Avenue
.
Residents, businesses, and community stakeholders will hear the basic specifications and community-oriented criteria for the new facility and the positive and negative aspects of several preliminary sites identified by City staff. Attendees also will be able to suggest additional sites and to discuss potential future uses for the existing District 3 headquarters at
3201 Warsaw Avenue
.
The current facility, built in 1908 and only 10,602 square feet, is considered cramped, outdated, and lacking in adequate parking.
Constructed to accommodate 40 officers, the building now houses 161 officers. An expanded headquarters, expected to be around 40,000 square feet, would be able to accommodate 200 officers, plus staff.
Funding for the design and construction of a new state-of-the-art facility has been requested as part of the 2013-2014 budget.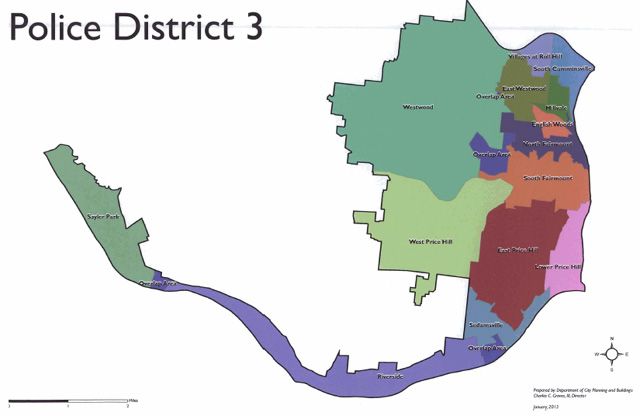 Several sites in and around East Price Hill have been suggested since 2006 – including the adjacent
Whittier School site on Hawthorne Avenue
and a site on Considine Avenue owned by the
Cincinnati Metropolitan Housing Authority
. A 1.6-acre site north of the
intersection of Glenway and Warsaw avenues and Quebec Road
in West Price Hill was proposed in 2009.
District 3 encompasses approximately 20 square miles and includes the neighborhoods of East Price Hill, East Westwood, English Woods, Lower Price Hill, Millvale, North Fairmount, Riverside, Sayler Park, Sedamsville, South Cumminsville, South Fairmount, the Villages at Roll Hill, West Price Hill, and Westwood.
The current district headquarters was listed on the
National Register of Historic Places
in 1981.
Photo courtesy of Wikimedia Commons
Previous reading on BC:
January report on new District Three station to address East Price Hill concerns (12/14/12)
West Price Hill property offered to City for new District 3 police station (1/27/09)
EPHIA to City: Buy Whittier site ASAP (6/18/08)
City will not help purchase Whittier site (11/21/07)
East Price Hill wants Whittier, new police station (10/18/07)