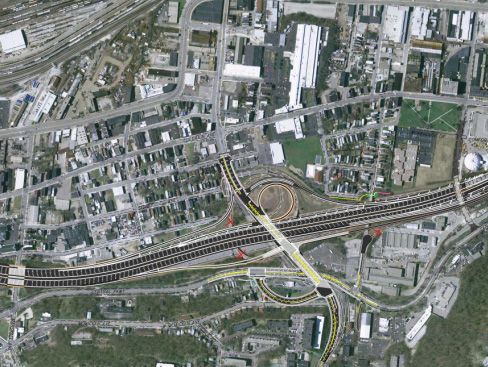 The public got an update on the upcoming
I-75/Hopple Street interchange
reconstruction during an open house and presentation held last Friday at
Cincinnati State Technical and Community College
.
The
Ohio Department of Transportation
plans to begin construction next month to add an additional lane to approximately 1.6 miles of interstate and to perform associated work on Martin Luther King Drive, Hopple Street, and Central Parkway.
As part of the project, Hopple Street will be reconstructed to span Central Parkway, with a connector road providing access. At the top of the hill, Clifton Colony Drive will be closed at Martin Luther King Drive and connected to Central Parkway.
Partial-access ramps from eastbound I-74 to Central Parkway and from Bates Avenue to westbound I-74 will be eliminated.
Construction is scheduled for completion in summer 2015.
The work is the fourth phase of the $664 million
I-75 Mill Creek Expressway
project, which will provide safety and capacity improvements from the Western Hills Viaduct to Paddock Road. One phase, construction of a new Monmouth Street overpass in Camp Washington, has been completed; work continues on the Mitchell Avenue interchange and at the I-74 interchange with Colerain Avenue and Beekman Street.
Previous reading on BC:
TRAC accepts 2014-2017 draft for road projects, accepting public comment (12/21/12)
City Planning Commission approves 'Revive Cincinnati' Mill Creek plan (3/7/11)
Camp Washington land to be sold for I-75 project (7/6/10)
Work begins on I-75 Mill Creek project (3/25/10)
Ordinances approved for I-75 expansion (8/17/09)