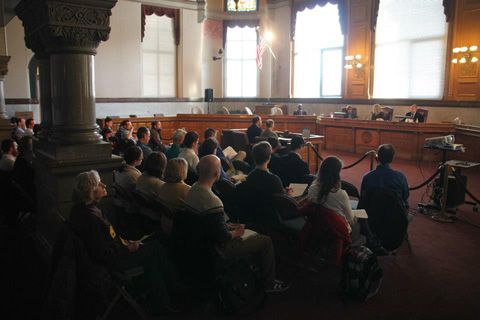 Five years after the adoption of the Green Cincinnati Plan, its advocates are now working on updating the plan and having it approved by City Council.
On January 22, the City's
Office of Environmental Quality
presented to Council's Strategic Growth Committee a
draft list of 59 recommendations
on how the City should address energy efficiency, renewable energy, transportation, land use and land management, waste, healthy food and water, and nature awareness.
More than 50 people attended the meeting.
Originally developed in 2008 as an action plan of more than 80 recommendations, the original purpose of the Green Cincinnati Plan was to respond to concerns of global climate change. So far, it's had the desired impact – its projects are credited with reducing greenhouse gas emissions by 8.2 percent between 2008 and 2012, exceeding its goal of 8 percent.
Now, with the majority of the plan's recommendations already implemented, this year's update is expected to take the plan to the next level through initiatives designed to make the region a global leader in sustainability.
Council will take the next month to examine the recommendations' potential costs and benefits, and is expected to vote on an updated plan in late February.
Photo courtesy of Green Umbrella
Previous reading on BC:
Cincinnati one of three American finalists in global climate challenge (1/22/13)
$15K approved for Green Cincinnati Plan outreach efforts (8/6/12)
Council gives Green Cincinnati Plan teeth (5/11/12)
Green Cincinnati RFP winding down (1/24/11)
Motion supports making urban gardening program permanent (11/18/09)