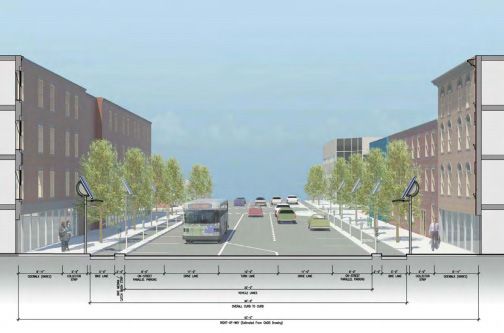 Cincinnati is moving forward with
Complete Streets
solutions for
Over-the-Rhine's Brewery District
, changes that were suggested in the sub-neighborhood's
2011 master plan
.
A City Council motion sponsored by Vice Mayor Roxanne Qualls, adopted unanimously at Council's December 14 meeting, says that the implementation would "renovate streets in the Brewery District into multi-modal corridors that enable the creation of vibrant public places and that encourage the development of private property into a mixed-use, sustainable neighborhood."
The most necessary change identified in the master plan is a "road diet" for
Liberty Street between Central Parkway and Sycamore Street
. In 1957, the east-west corridor was widened and extended to Reading Road, resulting in the demolition of dozens of buildings and effectively dividing Over-the-Rhine in two.
The motion directs the City to look at converting the street to five lanes, with a shared center turn lane and a parallel parking lane in each direction. Five-foot-wide bicycle lanes would be provided in each direction, separated from vehicular traffic by concrete curbs that could be used to hold parking meters, street lights, and signage.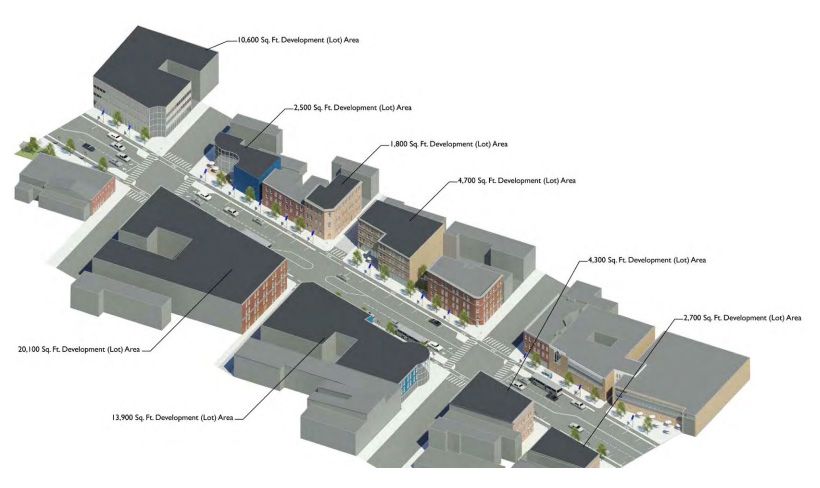 More importantly, any new buildings along Liberty Street would be required to present primary facades to both Liberty Street and its intersecting north-south streets, better unifying the neighborhood and increasing its pedestrian-friendliness. Sidewalks would be widened and intersections given prominent "zebra" striped crosswalks.
McMicken Avenue would be made more pedestrian-friendly by adding sidewalk bump-outs at key intersections and would be sub-named "Brewer's Boulevard" to capitalize on the area's rich brewing heritage.
Finally, all streets would have street architecture – such as benches, trash cans and recycling bins, bike racks, bus and streetcar stops, street lights, parking meters, signage, and fire hydrants – that reinforce the neighborhood's image.
A report on the cost and schedule of implementation of the changes is due before Council before any work will begin.
City-wide Complete Streets standards were first proposed by Qualls in 2009 and have been included in the recently adopted
Plan Cincinnati
.
Previous reading on BC:
Brewery District competition promotes true live/work space (10/8/12)
Form-based codes team presents charrette summary, 10 guiding principles (8/2/12)
'Road diet' for Liberty Street pursued (5/14/12)
Conversion of Taft and E McMillan should wait, report says (8/9/10)
Cincinnati seeking input on Madison Road 'complete streets' project (6/30/10)