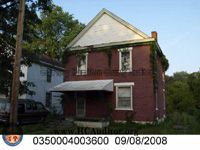 NEIGHBORHOOD:
Madisonville
YEAR BUILT:
1895
USE:
Single-family dwelling
OWNER:
Rick Pescovitz and Kelly Mahan
ASSESSED VALUE:
$65,030
ORDERS:
September 2009, for roof, gutters and downspouts, exterior paint, and broken windows. A City search revealed that the then owners were deceased. The building was ordered vacated and barricaded in July 2011. There were numerous orders for litter, high weeds, and (once) an abandoned vehicle dating back to 2007.
CONDEMNED:
August 2011, for failure of the roof structure that resulted in a large hole in the south gable, masonry damage, rotten ceiling joists and rafter ends, and collapsing ceilings.
HAZARD:
April 2012.
REASON RAZED:
Razed by the current owners to close orders. Pescovitz and Mahan acquired the property in August.
MAP