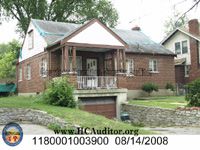 NEIGHBORHOOD:
Bond Hill
YEAR BUILT:
1949
USE:
Single-family dwelling
OWNER:
Shirley A. Harris
ASSESSED VALUE:
$87,780
ORDERS:
July 2009, for roof, garage door, and a dilapidated fence. Ordered vacated and barricaded in December 2009, adding gutter and downspout damage and excessive litter and debris. Harris claimed that she didn't have the money to make the repairs.
CONDEMNED:
December 2011, due to long-term abandonment, roof damage due to a fallen tree, water damage, collapsed ceilings, crumbled plaster, broken and missing windows, a failing side porch, an overgrown lot, and wildlife infestation. A criminal case was filed later that month.
HAZARD:
February 2012.
REASON RAZED:
Declared a public nuisance and entered into the City's hazard abatement program.
MAP