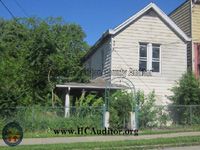 NEIGHBORHOOD:
Mount Auburn
YEAR BUILT:
1924
USE:
Single-family dwelling
OWNER:
Matthew Tolos
ASSESSED VALUE:
$28,820
ORDERS:
October 2009, ordered vacated and barricaded due to a rotting side porch, a failing retaining wall, faulty steps, and loose wiring.
CONDEMNED:
August 2011, having been vacant for more than five years and open to trespassers. The house had numerous broken windows, a condemned garage, and numerous citatious for overgrown weeds.
HAZARD:
May 2012, adding disconnected downspouts, a deteriorated roof, and missing bricks in both chimneys. In August 2012, Tolos acquired the property in a tax forfeited land sale.
REASON RAZED:
Razed by the owner to close orders.
MAP