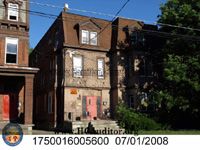 NEIGHBORHOOD:
East Price Hill
YEAR BUILT:
1900
USE:
Multi-family dwelling (6 units)
OWNER:
939 Chateau, LLC
ASSESSED VALUE:
$2,200
HAZARD:
August 2010.
CONDEMNED:
January 2010, due to extensive fire damage affecting the roof, cornice, and interior structural members. A criminal case was prepared against previous owner Deanna Apartment Co., but was not pursued due to want of prosecution.
ORDERS:
Off and on since August 2003. Most recently, orders issued in April 2009 for broken and missing windows and lack of electricity, gas, and water. The building had two tenants, was open to the public, and was getting electricity via an extension cord to the building next door. The building was ordered vacated in May 2009.
REASON RAZED:
Declared a public nuisance and entered into the City's hazard abatement program.
MAP