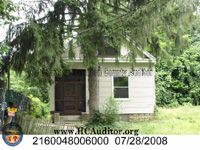 NEIGHBORHOOD:
Avondale
YEAR BUILT:
1908
USE:
Single-family dwelling
OWNER:
Zoological Society of Cincinnati
ASSESSED VALUE:
$37,480
HAZARD:
--
CONDEMNED:
--
ORDERS:
May 2011, for doors, plaster, gutters and downspouts, and vermin infestation. Ordered barricaded in February 2012 due to vacancy. The orders were reissued to the current owner in April 2012, after it purchased the property at sheriff's sale for $49,305.
REASON RAZED:
One of several properties along Forest and Duluth avenues that eventually will be razed for the
Cincinnati Zoo and Botanical Garden's
northward expansion.
MAP