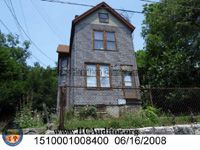 NEIGHBORHOOD:
Sedamsville
YEAR BUILT:
1895
USE:
Single-family dwelling
OWNER:
George A. and Lonnie R. Williams
ASSESSED VALUE:
$8,000
HAZARD:
--
CONDEMNED:
April 2011, for neglect and vandalism resulting in a deteriorated roof, water damage, chimneys, flashing, gutters and downspouts, cornice, siding, exterior paint, broken and missing windows, uneven front steps, lack of utilities, high weeds, and a junk automobile. Orders reissued in October 2011, and, the next month, the owner filed an application with the Board of Housing Appeals, which was denied. The current owners purchased the property in February 2012 for $10,000. Five months later, condemnation orders were reissued.
ORDERS:
November 2006, for siding, exterior paint, and foundation defects. In 2007, the previous owner contacted People Working Cooperatively for assistance in performing the repairs. The orders were reissued in January 2009, adding porch guardrails and protective grills.
REASON RAZED:
Razed by the owners to close out orders.
MAP