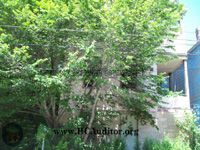 NEIGHBORHOOD:
South Fairmount
YEAR BUILT:
1895
USE:
Two-family dwelling
OWNER:
KAK LLC
ASSESSED VALUE:
$23,060
HAZARD:
May 2010. No contact from previous owner, purchased by current owner on 8/18/12.
CONDEMNED:
January 2010, due to deteriorated fence, siding, gutters and downspouts, broken and missing windows, and previous orders.
ORDERS:
January 2009, ordered vacated and barricaded due to broken and missing mechanical systems and litter and debris. A criminal case was filed against a previous owner in December 2009. The case was continued twice, and eventually the owner plead "no contest", was found guilty, and was entered into a diversion program. He failed to show up for subsequent court appearances and, in May 2011, he was removed from the complaince program and given a 180-day suspended jail sentence, one year of probation, and court costs.
REASON RAZED:
Declared a public nuisance and entered into the City's hazard abatement program.
MAP