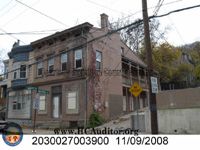 NEIGHBORHOOD:
South Fairmount
YEAR BUILT:
1875
USE:
Multi-family dwelling (4 units)
OWNER:
Rehoboth Faith Church of Jesus Inc.
ASSESSED VALUE:
$10,100
HAZARD:
October 2011.
CONDEMNED:
January 2011, adding broken and missing windows, missing and vandalized mechanical systems, and a collapsed porch. Civil citation.
ORDERS:
March 2002, ordered barricaded due to arson and drug activity. Ordered vacant in June 2003. Orders reissued in July 2006, again in September 2006, and again in September 2007. Lost in foreclosure in February 2008, and the orders were reissued with retaining wall, chimney, gutters and downspouts, and porch cited as the biggest problem areas. Sold in May 2008, orders issued again. Building acquired by current owner in January 2009, orders issued again. While the owner attempted to sell the building, a criminal case was filed. That case was later dropped.
REASON RAZED:
Declared a public nuisance and entered into the City's hazard abatement program.
MAP