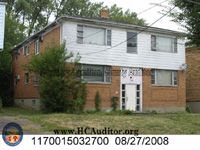 NEIGHBORHOOD:
Roselawn
YEAR BUILT:
1962
USE:
Multi-family dwelling (4 units)
OWNER:
Clyde M. and Betty A. Richard
ASSESSED VALUE:
$41,740
HAZARD:
March 2010. It appears no work was ever done to fix damage to the roof, structural members, windows, or anything else. The building required City barricade work on several occasions, and the back yard became a neighborhood dump site. The City lost all contact with the owners.
CONDEMNED:
July 2009, following heavy damage from a suspected arson fire. A criminal case was filed in January 2010, and the owners were placed into a compliance program.
ORDERS:
--
REASON RAZED:
Declared a public nuisance and entered into the City's hazard abatement program.
MAP