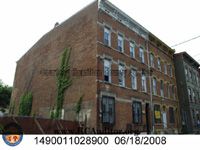 NEIGHBORHOOD:
Lower Price Hill
YEAR BUILT:
1900
USE:
Multi-family dwelling
OWNER:
Fortune Real Estate 888 LLC (West Hills, Calif.)
ASSESSED VALUE:
$28,150
HAZARD:
June 2012, following a four-alarm fire that took 102 firefighters approximately two hours to control. The building was a total loss.
CONDEMNED:
--
ORDERS:
January 2011, for exterior doors, exit and hall lights, lack of smoke detectors, interior litter, plaster, doors, bathroom ventilation, defective plumbing lines, weak structural members, flooring, missing ceiling tiles, and lack of heat. The building was ordered vacated and barricaded in July 2011. Violations and vandalism continued.
REASON RAZED:
Declared a public nuisance due to extensive fire damage and demolished due to an imminent threat to public safety.
MAP