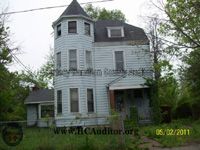 NEIGHBORHOOD:
Madisonville
YEAR BUILT:
1885
USE:
Single-family dwelling
OWNER:
Phillip Helgeson
ASSESSED VALUE:
$5,000
HAZARD:
--
CONDEMNED:
March 2012, following a one-alarm fire that caused $60,000 in damage and took 40 firefighters approximately 90 minutes to contain.
ORDERS:
November 2009, ordered vacated and barricaded due to gutters and downspouts, fencing, lack of protective paint, and overgrown brush. The owner had died, and no bidders emerged at sheriff's sale. The building continued to deteriorate, with damage to the front porch, chimney, soffit, siding, windows, and roof. Orders were re-issued to the current owner in November 2011.
REASON RAZED:
Razed by the owner due to excessive fire damage that severely compromised the structure.
MAP