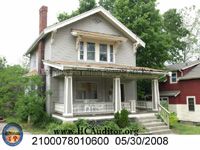 NEIGHBORHOOD:
Westwood
YEAR BUILT:
1915
USE:
Single-family dwelling
OWNER:
Westwood Community Urban Redevelopment Corporation (WestCURC)
ASSESSED VALUE:
$6,000
HAZARD:
--
CONDEMNED:
August 2012.
ORDERS:
November 2011, ordered vacated and barricaded due to a deteriorated roof, damaged plaster walls and ceilings, defective plumbing, gutters and downspouts, front porch guardrail and steps, structural problems, lack of utilities, and litter and weeds. Acquired by WestCURC in February 2012.
REASON RAZED:
Razed by WestCURC to close out orders.
MAP