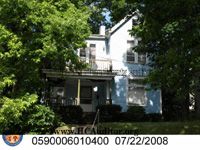 NEIGHBORHOOD:
Evanston
YEAR BUILT:
1881
USE:
Single-family dwelling
OWNER:
Frederick Jones
ASSESSED VALUE:
$45,120
HAZARD:
March 2010, adding disconnected or missing gutters and downspouts. The building required City barricading on at least two occasions.
CONDEMNED:
May 2008, for extensive structural rot, a collapsing side deck and front porch, lack of paint, broken windows, water damage, and lack of electrical service. A criminal case was filed in February 2009, and Jones was entered into a compliance program. After getting bids for rehabilitation of the property, Jones decided to raze the building. In December 2009, Jones was removed from the compliance program and given a 180-day jail sentence (suspended), two years of probation, and court costs.
ORDERS:
--
REASON RAZED:
Declared a public nuisance and entered into the City's hazard abatement program.
MAP