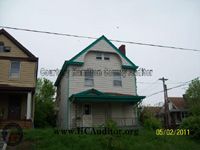 NEIGHBORHOOD:
Evanston
YEAR BUILT:
1908
USE:
Single-family dwelling
OWNER:
Harry T. George
ASSESSED VALUE:
$48,300
HAZARD:
September 2010, adding gutters and downspouts, missing siding, broken and missing windows, and missing egress steps. In June 2012, the current owner got a temporary stay of demolition, allowing him two weeks to register the land contract and post bond.
CONDEMNED:
June 2009, vacant and open with a rotting front porch and cornice, litter and weeds. A criminal case was filed against a previous owner in April 2010, but has not progressed.
ORDERS:
Dating back to 2002, for litter and weeds.
REASON RAZED:
Declared a public nuisance and entered into the City's hazard abatement program.
MAP