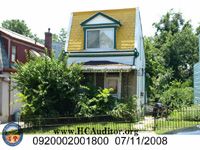 NEIGHBORHOOD:
Corryville
YEAR BUILT:
1880
USE:
Single-family dwelling
OWNER:
Gaslight Ventures LLC
ASSESSED VALUE:
$43,910
HAZARD:
--
CONDEMNED:
December 2011, following a suspicious fire that caused $40,000 in damage to structural members, floor joists, roof, and siding.
ORDERS:
September 2010, for chimney, gutters and downspouts, exterior paint, masonry repair, and electrical fixtures. The owner of record at the time was deceased, and the owner's son was seeking assistance for repairs.
REASON RAZED:
Acquired by the affiliate of
Uptown Rental Properties
in June 2012 for $37,841 and likely being held for future redevelopment.
MAP