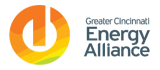 The
Greater Cincinnati Energy Alliance (GCEA)
, in partnership with the
Cincinnati Development Fund (CDF)
, has won the
Council of Development Finance Agencies (CDFA)
2012 Excellence in Energy Finance Award, awarded yesterday evening at the CDFA National Development Finance Summit in Washington, D.C.
The award recognizes GCEA's commercial Building Performance Program, which helps building owners in the GCEA service area of Boone, Campbell, Hamilton and Kenton counties identify ways to make their facilities more efficient.
Utilizing public and private investments to offer market rate financing to program participants that wish to upgrade their building facilities with energy efficiency measures, participants can qualify for loans between $100,000 and $1 million – with competitive interest rates.
"Using our financing model, a program participant could take an energy efficiency loan for $125,000," GCEA Executive Director Andy Holzhauser said in a prepared release. "Combine it with an incentive from the utility company, and the estimated payback can be four years or less. In fact, a monthly loan payment could be lower than their utility bill savings."
The finance model is attractive to private investors because it offers a low-risk entry into the energy efficiency market, he said.
"Our innovative community partnership with CDF gives us access to a huge pool of commercial buildings in the Cincinnati community – buildings that could see a drastic reduction in their monthly utility and operating costs if they were to install efficient equipment," Holzhauser said.
Financing was made possible through a three-year, $17 million competitive grant from the
U.S. Department of Energy
, awarded in April 2010 as part of its $452 million Energy Efficiency and Conservation Block Program.
GCEA was one of only 25 grant recipients nationally.
Previous reading on BC:
Council gives Green Cincinnati Plan teeth (5/11/12)
Three-week EcoSculpt a competition, a showcase, and a message (4/16/12)
EcoSculpt 2011 seeking sculptors (2/7/11)
Greater Cincinnati Energy Alliance begins outreach efforts (5/3/10)
$17M federal retrofit grant to save energy, create jobs (4/26/10)