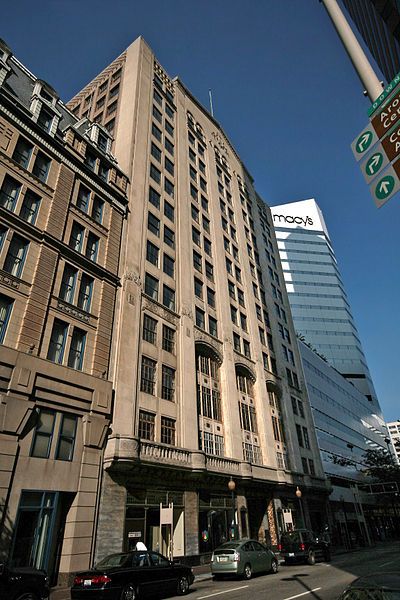 At its meeting yesterday, the full Cincinnati City Council approved a Community Reinvestment Area LEED tax exemption agreement with Charlotte-based
SREE Hotels
that will bring a dual-branded hotel to the historic Enquirer Building
at 617 Vine Street
.
The $27.3 million project will convert the 14-story, 288,000-square-foot building into a 238-room hotel and 12,000 square feet of street-level retail space. The hotel will be branded with two of three
Hilton Hotels & Resorts
brands – Hampton Inn, Homewood Suites, or Hilton Garden Inn –
the Cincinnati Business Courier reported on Tuesday
.
The 12-year, 75 percent exemption will reduce the property tax liability of the development by nearly $7.3 million. Ohio Historic Preservation Tax Credits in the amount of $5 million are also available for the project.
The hotel is expected to open by the end of 2014.

The Enquirer Building was originally built in 1926 to house the newspaper's offices and printing operations, and was added to the
National Register of Historic Places
in 1985. When the
Enquirer
moved to 312 Elm Street in 1992, the building became mostly vacant Class C office space.
In 2007, an affiliate of
Middle Earth Developers
purchased the building for $2.5 million and began preliminary work on a condominium project, which was put on hold a year later due to the recession. By late 2011, the property had been placed into receivership following a foreclosure action by
Bank of America
due to non-payment of a $2.3 million loan.
This is the sixth Downtown hotel project either completed, under construction, or proposed since 2010. Other projects include the Residence Inn, which opened in Lytle Park in April 2011; the $56 million
21c Museum Hotel
, which opens in November; the $17 million renovation of the
Hyatt Regency Hotel
, to be completed by the end of 2014; the
Holiday Inn Hotel and Suites
, planned for the corner of Seventh and Broadway streets; and a hotel proposed for the corner of Main Street and Freedom Way at
The Banks
.
Charlotte-based SREE Hotels operates 31 hotels in California, North Carolina, South Carolina, and Virginia.
Photo courtesy of Greg Hume via the Creative Commons Attribution 3.0 Unported license.
Previous reading on BC:
New Ohio preservation tax credit round begins July 1 (6/25/09)
Lt. Gov. Fisher in OTR today to make announcement on historic tax credits (10/16/08)
ODOD: Forcing tax credit approvals would 'offend constitutional separation of powers' (5/16/08)
Working group makes recommendations on state tax credit program (4/28/08)
Ohio developers file writ with Supreme Court over tax credit program (4/11/08)