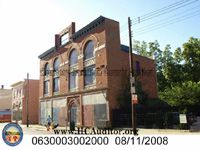 NEIGHBORHOOD:
Walnut Hills
YEAR BUILT:
Circa 1900
USE:
Commercial
OWNER:
Family Funeral Centers LLC
ASSESSED VALUE:
$148,820
HAZARD:
--
CONDEMNED:
--
ORDERS:
--
REASON RAZED:
Records on this building are sparse, but it appears that Family Funeral Centers LLC acquired the property in June.
Brown Funeral Home
, at 1013 E McMillan Avenue, has produced plans for an attached, one-story chapel building for the site. The demolished building was largely a façade, with the rear of the building severely dilapidated and exposed to the weather.
MAP