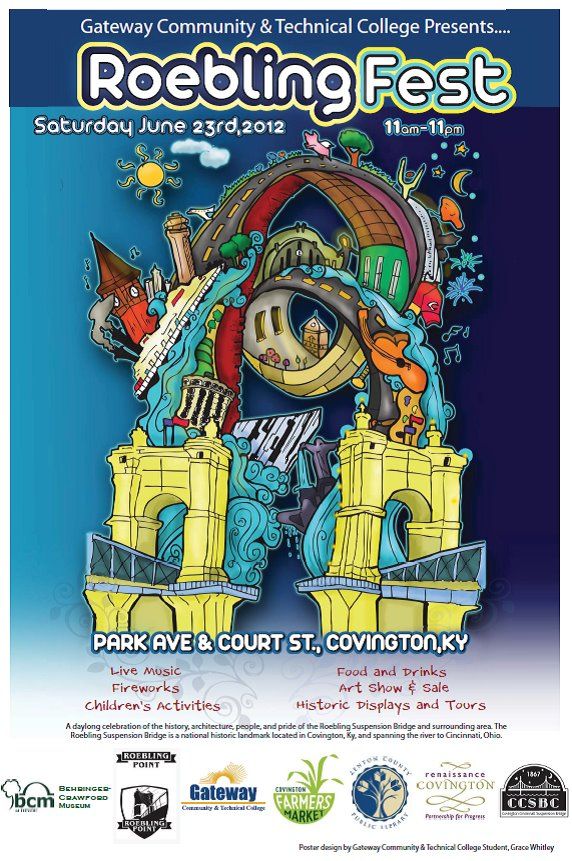 Tomorrow, a day-long celebration will honor the City's most iconic bridge.

RoeblingFest 2012, to be held from 11 A.M. to 11 P.M. around the intersection of Park Avenue and Court Street in Covington, will feature music, food and drink, local arts and crafts, a dedicated Kids' Zone, and a closing fireworks display by Rozzi's Famous Fireworks.

In addition several hour-long walking tours will be offered: A Bridge Tour, focusing on the history and engineering of the John A. Roebling Suspension Bridge; a Roebling Mural Tour, highlighting the 18 murals depicting Covington's history painted by artist Robert Dafford; a Riverwalk Statue Tour, highlighting the statues along Riverside Drive and a visit to the Daniel Carter Beard Home; and an Architectural Walking Tour of the Licking Riverside Historic District, a National Historic District. Tours are $5 per person or $20 per family, and children 10 and under will be admitted for free.

Construction on the suspension bridge began in 1856, and the bridge officially opened to traffic on January 1, 1867.


Later that year, Roebling was hired as chief engineer of the New York Bridge Company, charged with building a span over the East River. Following an accident in 1869, Roebling died of lockjaw – leaving his son Washington Roebling to finish what would become known as the Brooklyn Bridge.

That bridge, completed in 1883, was modeled upon Roebling's work in Cincinnati.

The John A. Roebling Suspension Bridge was recognized as a National Historic Landmark in 1975 and as a National Civil Engineering Landmark in 1982.

RoeblingFest is sponsored by Renaissance Covington, the Cincinnati-Covington Suspension Bridge Committee, and the Roebling Point Business Association.

The Transit Authority of Northern Kentucky will be detouring buses away from the festival area, meaning that stops at Park Avenue and Court Street and at Greenup and 3rd streets will be closed. Riders are encouraged to catch the Southbank Shuttle at RiverCenter Boulevard and Madison Avenue.

Previous reading on BC:
Roebling Bridge lecture this Sunday (4/8/10)
Citizens given a voice in future of Roebling Point (3/23/10)
Public hearing Thursday on historic Covington buildings (3/30/09)
Renaissance Covington expands boundaries (1/7/09)