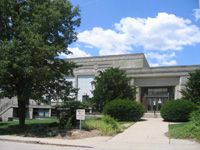 On June 20, Cincinnati City Council unanimously approved a five-year lease agreement with
The Sunset Players
to renovate and tenant the Dunham Arts Building at
1945 Dunham Way
, bringing Price Hill a new community arts center.
In return for free rent, the community theatre group will transform the building into "the Arts Center at Dunham", updating the building's electrical systems, making the building ADA-compliant, and rebuilding the stage extension. The building's upper level will contain a performance venue, and the lower level will include art studio space.
The renovation is scheduled for completion this fall, in time for the 2012-2013 season.
The Sunset Players, who have utilized Dunham for more than 30 years, will have the option to renew the lease for four additional five-year periods.
The
Cincinnati Recreation Commission (CRC)
vacated the building and moved all of its programming to the Dunham Recreation Center. CRC lacks the funds to renovate, and the vacant building has become a community eyesore.
Designed by
Samuel Hannaford & Sons
, the Art Deco structure was originally built as the Occupational Arts Building of Dunham Hospital, a tuberculosis sanatorium. The property became a City recreation center in the early 1970s.
Photo credit: Cincinnati Recreation Commission
Previous reading on BC:
CRC: Quebec Heights not suitable for rec center (6/10/08)
City, CRC to receive $2.1M for Armleder projects (5/27/08)
EPH resident proposes swaps involving Whittier, Quebec Heights sites (4/24/08)
City to accept Armleder funds (1/24/08)
CRC seeks more funds for Avondale aquatics center (1/14/08)